GET READY, 2020!!
http://www.nezdriftriga.eu/registration/
The North Europe drift championship next year returns for more exciting and competitive season- we are back with 4 stages! We know you have been waiting for it for a long time!
NEZ CALENDAR 2020
1. 10-11 APRIL, EASTER DRIFT, ELMIA, Jönköping, SWEDEN
This event have the longest tradition as a competition in Sweden and we hope that it will become tradition for NEZ drift championship also. Event happening together with the expedition Bilsport Performance & Custom Motor Show that is held at the same time and has around 80,000 visitors and the drift competition has around 15-20,000 watching, which make it the biggest drift competition in Sweden.
It is a technical track layout with quite low speed, and the driver are just 1-2 meters from the spectators. Around the track are building's, that makes the sound more amazing.
2. 15-16 MAY "ROLLERCOASTER FROM HELL" KEHALARING, KEHALA, ESTONIA
Is there still anyone who does not know this track? Yes, you only think about jumping in it, but no, the configuration of the track is special in that, the whole track is not transparent! We will discover the secret about thee jump - of course, you can jump, but when you are jumping you are even very out of line, jumping for a show is fantastic, but for the results it will only slow down your speed and completely change the line you need and destroy your result. The layout is fascinating with the fact that you are passing through a bridge also. The event itself is fascinating with the whole concept and you will not be disappointed!
3. 14-15 AUGUST, GRAND ARENA DRIFTING, TURKU, FINLAND
RADALLE.com Grand Arena Drifting will take place again in Artukainen, Turku, in the former capital of Finland. Turku is well known for beautiful girls, archipelago, historical monuments and nightlife (many students). The track itself is compact and easy to see from the area, and organizer this time will provide new layout. There will be a lot of off-track-action as well: live music, DJ, car and tuning show. Artukainen is a well-known area due to its history, and there will be expected a big amount of spectators at this many-sided event.
4. 28-29 AUGUST, NEZ DRIFT RIGA, LATVIA, BIKERNIEKI RACE TRACK- WITCH KETTLE
Riga itself does not ask questions, but the NEZ stage in Riga takes place in a configuration that is run only once per season. The witch-kettle configuration is unique with its location and special in that that driver drive it only once per season. No bend in the witch kettle configuration is transparent, it requires daring, and is considered one of the most exciting track configurations in Europe. The middle of the forest, the atmosphere, the festivities, the screen, the open paddock park make this event fantastic and exciting.


What you expect
*four exciting stages where each race is individual with its own specifics
*great time, meet new people
*chance to become official champion, champion leads his home country to the 2020 season award ceremony
*cash prizes at each stage and in the season overall
*live stream from each stage
*official champion medals for the first 3 places in the season standings
* discounts for ship traveling from one country to another
* Fantastic race conditions where drivers are the main ingredient
* good communication helping riders promote themselves
And much more, we will do much to make this your most memorable drift season!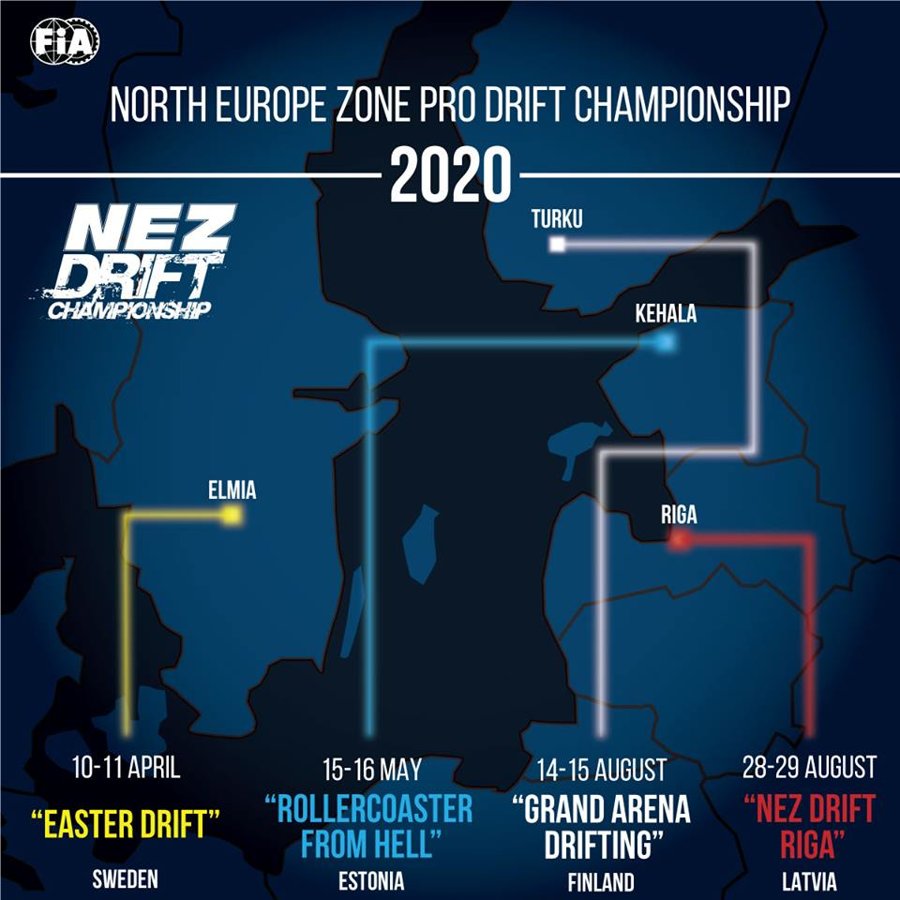 No comments
Leave a reply