NEZ DRIFT CHAMPIONSHIP 2023
The NEZ European Drift Championship will consist of 3 rounds in the 2023 season and yes, finally we are announcing a round in SWEDEN
Three stages, three completely different tracks, and one champion!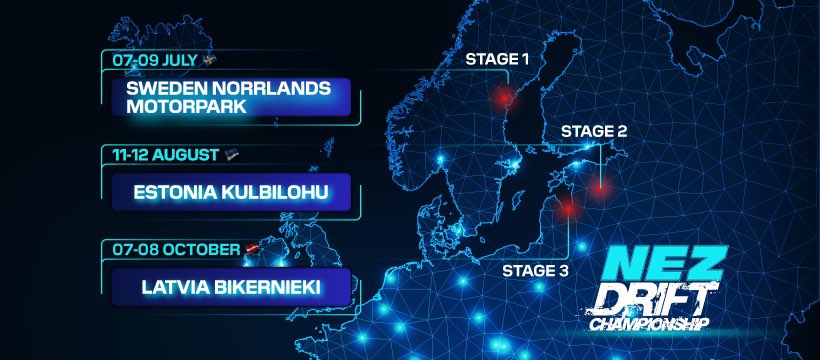 ESTONIA- SWEDEN- LATVIA
We have some changes! But we hope you will still LOVE it! Sweden stage will be already in JULY, so we will start with Sweden!
The NEZ European Drift Championship NEZdrift will consist of 3 rounds in the 2023 season.
Three stages, three completely different tracks, and one champion!
SWEDEN- ESTONIA- LATVIA
7-9 July Sweden.
Mittsverigebanan
After a long desire to hold a stage in Sweden, it will happen, many thanks to the Swedish organizers and the federation for the opportunity, which is certainly a great start to a long friendship, we have big plans together. And with their massive work- we have update in calendar- new place in Sweden and date! Event in Midsweden- Drift Weekend. Race together with Swedish drift championship, so Swedish drifters, it's amazing chance for you to jump in and fight also for NEZ drift champion title and medals. And we heard that there are some nice track updates, can't wait.
11-12 August Estonia
Kulbilohu Krossirada
- The track first appeared on the calendar in 2022. The drivers immediately said that the track requires skill and is exciting, but they love it. A complete change of different levels, the track can be seen from the hills all around; the track is exciting, fast and requires skill. By the way, the NEZ PRO stage will take place together with the Estonian and Latvian Semi pro competition, which any Semi Pro driver can also join.
7-8 october Latvia
Biķernieku trase
The end of the season in Riga, when the seasons have already ended everywhere almost, we will end it together in Riga, giving the drivers the opportunity to drive the DMEC configuration. In the competition, not only Pro classes will start, but also Semi pro, but also Street. A great end of drifting, which we will celebrate together in Riga and determine the champion.
The NEZ Drift Championship is an open championship and does not require season registration. Drivers are invited to join any stage of their choice. The NEZ competitions take place together with the PRO championship of the given country.
See you on the race track!
See you on the race track
No comments
Leave a reply